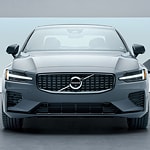 The 2023 Volvo S60 is a luxury car that is designed to impress. One of its key features is its stunning exterior, which is both sleek and aerodynamic. The car's aerodynamic design is optimized for efficiency and performance, ensuring a smoother and quieter ride. The car's profile is not only stylish but also helps to reduce wind resistance, improving the car's overall performance.
Another standout feature of the 2023 S60 is its distinctive front grille. The grille features Volvo's signature iron mark emblem and a bold chrome surround, adding a touch of elegance to the car's design. The grille is a standout feature that is instantly recognizable and adds to the car's overall appeal.
The S60 also comes with a range of stylish wheel options that perfectly complement its sleek profile. Customers can choose from a variety of designs, including the standard 18-inch alloy wheels or the available 19-inch diamond-cut alloy wheels. The wheels not only look great but also provide excellent traction, ensuring a smooth and comfortable ride.