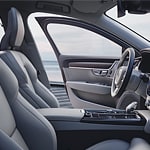 Are you ready to meet the 2023 Volvo S90 Recharge? In terms of performance, the Recharge has everything you've ever imagined. This luxury vehicle doesn't just have a memorable appearance, the Recharge has shown just why its dominating the road. Let's take a look at some of the best performance features of the new Volvo S90 Recharge.
An Overview of Performance
The Recharge has all the performance features you'll ever need. For starters, this hybrid vehicle is more than powerful thanks to its impressive engine power. It comes equipped with a 2.0L turbocharged four-cylinder engine. This engine is matched with a powerful 455 horsepower and 523 pound-feet of torque.
The Recharge also includes an impressive and long-lasting 18.8 kilowatt-hour lithium-ion battery. For better acceleration, drivers will enjoy an eight-speed automatic transmission. Additionally, the S90 Recharge offers an eAWD so that driver can be confident on the road, no matter what terrain lies ahead.