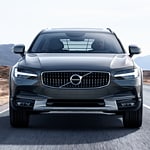 The 2023 Volvo V90 Cross Country is an excellent car for those looking to combine luxury and capability. Its all-wheel-drive system, raised suspension, and increased ground clearance gives it the power to handle any terrain easily. The advanced technology features make this vehicle one of the most efficient on the market while still providing drivers with a safe and comfortable ride.
This vehicle has a 2.0-L twin-charged mild hybrid I-4 engine with a power output of 295 hp and 310 lb-ft of torque. With this power, the V90 Cross Country can tow up to 3,500 pounds. The vehicle is nimble and offers impressive cornering competence. The brake pedal feels spongy, but the brake system is strong.
Its exterior design is rugged yet stylish, and the interior features luxurious materials that make driving pleasurable. Its modern amenities, like wireless charging for your devices, keyless entry, and plenty of cargo space, make it an ideal choice for those who want convenience and comfort on the road.