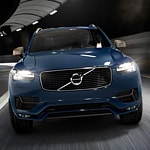 Luxury has been the design formula of all Volvo vehicle models. Right from the exterior styling to interior design and décor, the Volvo lineup of vehicle models offers the best and most prestigious ride. While most of the Volvo sedans and SUVs are built for high performance and the ability to handle complicated off-road terrains, they also come fitted with the world's best sound system.
The new Volvo XC90 is among the top SUVs that come standard with the Bowers & Wilkins audio system. This is the same system that is used in the recording studio to provide high-quality and crisp sound. This sound system puts the XC90 ahead of its peers with premium sound quality and enhanced luxury inside the cabin.
Driving the Volvo XC90 is quite pleasurable, thanks to the superior sound system that has been incorporated in the design and engineering of the SUV. This system delivers an exceptionally polished and pleasurable sound effect in the cabin.