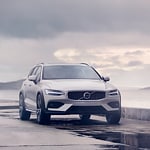 For East Swanzey drivers considering the Volvo V60 Cross Country, what features can they expect to receive with this vehicle? This dynamic Volvo vehicle is ideal for adventure-oriented local drivers. It has a 360-degree camera, a dependable all-wheel drive system and an impressive 8.2-inch ground clearance.
Advanced technologies like Hill Descent Control and Off-Road Drive Mode will help you greatly while exploring local areas in your new Volvo V60 Cross Country. The V60 Cross Country is also a vehicle that will make you feel safe behind the wheel thanks to technologies like the Blind Spot Information System and Cross Traffic Alert.
Volvo Cars Keene's team knows that design is also important to local vehicle shoppers. Thankfully, the Volvo V60 Cross Country is designed remarkably well. From an elegant exterior to a spacious and comfortable cabin, the V60 Cross Country is truly an appealing vehicle.