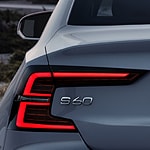 Some of the top features for the Volvo S60 Inscription Volvo are great because they are made to keep you and your passengers comfortable while still being luxurious. No matter where you go in the S60 Inscription trim level, you will definitely draw attention with the well-designed exterior features.
The interior of the S60 Inscription offers features such as comfort seating cushion extensions to help with leg support. There are also power adjustments for lumbar support and heat settings for the front seat. The back seat has a comfortable armrest.
The exterior of the Volvo S60 Inscription has a great moonroof which is great for looking at the stars or looking up at buildings in the city and during a long trip. Your passengers will also love the sunshade when they want to rest. At Volvo Cars Keene, we always love chatting about all of the interior and exterior features for this Volvo trim level!