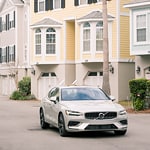 Are you looking for a new luxury car? Then take a look at the Volvo S60 Interiors. This is an amazing sedan that provides consumers with everything they want in a vehicle. Below we discuss some of the interior features and specs for this luxurious ride.
The Volvo S60 comes in two models: the T5 and the R-Design. The T5 is by far the most popular model, and for a good reason. This sedan has a sleek exterior design with an even better interior. The T5 offers consumers three engine options: gasoline, diesel, and turbo/supercharged. All engines provide a smooth and comfortable ride. The Volvo S60 gives consumers a luxurious interior that is designed from the ground up to be high-end with little room for complaints.
When you buy a new car, you want it to last as long as possible. You can protect your car's exterior by waxing it regularly, but what about the interior? By taking care of the interior, you will be able to ensure that your car's stylish looks last. Since the Volvo S60 is a high-end luxury vehicle, you need to take extra special care of it.