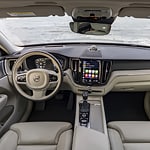 The Volvo XC60 has become a fan-favorite automobile among vehicle lovers of all ages. This mid-size SUV has a dominant exterior that's elegantly styled with "Thor Hammer" LEDs and bold contours. Underneath the hood sits a 2.0-liter turbocharged engine that's primed to perform at an optimal level.
From its leather-appointed seats to its Panoramic moonroof, you and your passengers will experience the ride of a lifetime. The Volvo XC60 has an interior cabin that's well crafted to the highest degree. Driftwood décor and diamond-pattern finishes are found throughout the interior. Its driving mode controller and started button will delight your senses. In addition to that, this SUV is equipped with cutting-edge technologies. Smartphone integration is made possible via Android Auto and Apple CarPlay. Your passengers can also surf the web via Wi-Fi Hotspot.
We have a nice selection of Volvo XC60s on deck, and they are waiting to be explored.